The full industrial chain of importing livestock from Australia initiated by Hesheng Group has made its own base run
The vessel, "YANGTZE FORTUNE", of SinomarineLivestock Carrier Co., Limited invested by Hesheng Group, successfully arrived at the port of Qingdao on 1stDec 2017, loaded with 2,382 head of Australian grain-fed Angus.
To be along with the Belt and Road Initiative, Hesheng group commenced to build a full industrial chain of Australian livestock in 2015. It was a vision of Hesheng group and our operation counterparts in west Australia to develop a sustainable and integrated source of livestock business, through the establishment of our joint-venture company Harmony Agriculture and Food Co. Ltd and the acquisition of three ranches splited over Perth and Melbourne with total 97 km² of scale, we will be able to supply 100,000head or even more annually. In the meanwhile, HAAFCO has signed long-term strategic contract-farming agreement with more than 12 farms so that the annual supply could easily boost up to 300,000 head. In mid-reaches of the industrial chain, Hesheng group worked with China Shipbuilding Industry Corporation to rebuild two 6400 ㎡livestock vessels possessed the independent intellectual property right which can satisfy the high standard of AMSA and occupy a very important position in the industry of world livestock carrier. As for the downstream, Hesheng group has invested in Qingdao Snowdragon Animal Husbandry Co., Ltd assembling quarantine, abattoir, marketing and sales. In the meanwhile, actively promotes the construction of quarantine and abattoir in Rizhao and Yancheng with striving to reach 200,000~300,000 heads annual capacity, which will complete the large-scale layout of the full industrial chain.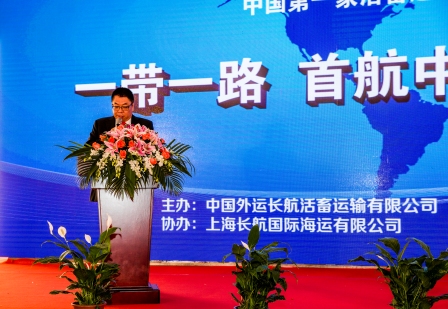 he chairman of Hesheng Group, Wenfeng Wang, addresses at the ceremony.
The cattle imported this time are premium Angus originated from farms in Australia that the whole feeding progress is under strict control of Australian officials and also has been previewed by AQSIQ before the vessel arrived China.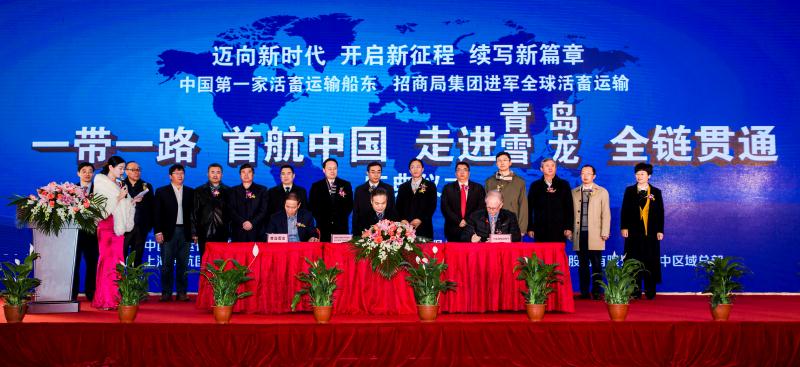 Sinomarine, Snowdragon and HAFFCO signs the strategic cooperation agreement.
The successful arrival of "YANGTZE FORTUNE" marked the full industrial chain of Australian cattle business has been completed whole, and it also means that our supply chain extended from the farms in Australia right through to the grocery stores shelves in China with safe,high quality and traceable food. On this basis, Heshenggroup plans to newly build more livestock vessels so that the carrier capacity could amount to 300,000 heads.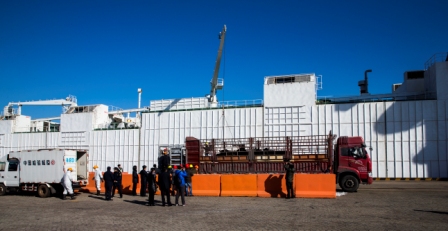 Angus unloading from "YANGTZE FORTUNE"
In future, Heshenggroup will cooperate with all parties to jointly devote into operating the full industrial chain of Australian cattle including breeding, feeding, trading, shipping, quarantine, slaughtering and marketing, and also aim to take the lead position in the world market of livestock carrier.